What is the White Circus (Circo Bianco)
CIRCO BIANCO Circo Bianco is a contemporary circus reality. It uses professional artists and acrobats to create high visual impact performances. Also, through the use of tailored costumes and acrobatic structures designed ad hoc, Circo Bianco makes every atmosphere magical and unforgettable. Music, choreography, sets, costumes, make-up are specially designed to recreate the proposed theme and plot. Consequently, under the creative direction of Francesca Ghini, Circo Bianco transmits emotions and creates magical atmospheres. Circo Bianco has been on tour throughout Italy for more than ten years. It offers a wide range of shows. Our shows are already composed or created from scratch according to the customer's needs. Circo Bianco provides complex themes with particular artistic direction and performances. WORK METHOD Francesca Ghini, director and supervisor, studies and elaborates offers of very refined shows related to the location where the show will take place. Each entertainment is proposed according to the client's requests and expectations, carefully studying the visual and technical needs of the location. Contact us to ask for any information and book your show.
---
Aria
Brand new installation for a show completely suspended in the air
A preview for you
Engaging and fascinating, where acrobats and dancers suspended in a fantastic scenario of quadruple aerial attractions will leave the audience speechless!
Let yourself be enchanted by the fantastic light installations, elegant artists in a unique and unforgettable setting.
---
Alla Luna
Between choral choreographies and living paintings, you can find artists and fictional characters all together on stage, doing performances and games of fire. Due Blocchi narrativi condurranno il pubblico all'interno di mondi incantati, facendogli fare un tuffo dentro una fiaba in cui la vasta scelta degli artisti presenti, interagirà con la folla, creando performance ad alto impatto visivo. Di colpo sarete su un lago ad ammirare la Luna, un attimo dopo le fiamme dell'inferno vi inghiottiranno... Questo è il Circo Bianco
Sognami Trovami Amami
Two narrative blocks will lead the audience into enchanted worlds, making them dive into a fairy tale in which the vast choice of artists present will interact with the crowd, creating high visual impact performances. Suddenly you will be on a lake admiring the Moon, a moment later the flames of hell will engulf you... That's Circo Bianco!
---
Attrezzi acrobatici luminosi
Fantastic bright and self-supporting acrobatic tools.
The possibility of air show performances to be held everywhere!!!
The beginning would be choreographed with bright LED wings.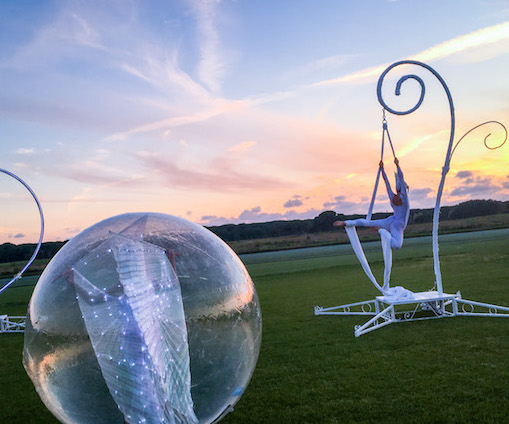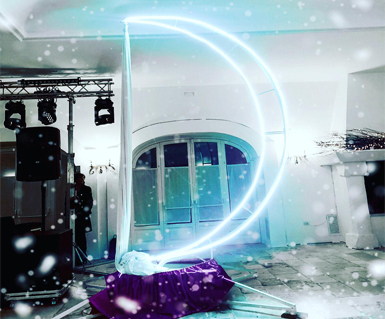 ---
The Wizard of Oz
The Wizard of Oz is re-proposed in a contemporary new circus key, blending theatricality, circus art and ballet. The show is also translated in L.I.S (Italian Language os Signs) to accommodate impaired hearing deafness. Show suitable for children and families of all age groups. Personaggi : Dorothy, spaventa passeri, uomo di latta, leone codardo, strega, fata, mastichini, e Il grande e potente Oz. Il tutto interpretato da Ballerini, Trampolieri, Attori, Fuochisti e Clown. Durata : 70 Minuti
---
Selection of our shows
Suitable for: White Nights, Fashion Shows, Conventions, Weddings, Etc.
Watch excerpts from other shows