What is Circo Bianco?
Circo Bianco is a contemporary circus company that brings together professional artists and acrobats to deliver visually stunning performances. With the use of customized costumes and specially designed acrobatic structures, Circo Bianco creates a magical and unforgettable atmosphere for every show. From music and choreography to sets and makeup, every element is meticulously crafted to enhance the chosen theme and storyline. Led by the creative direction of Francesca Ghini, Circo Bianco evokes emotions and transports audiences into enchanting worlds. With over a decade of touring experience across Italy, Circo Bianco offers a diverse range of shows, both pre-existing and tailor-made to suit the specific needs of each client. Our productions feature intricate themes, exceptional artistic direction, and captivating performances.
WORK METHOD
As the director and supervisor, Francesca Ghini carefully studies and develops highly refined show concepts that are tailored to the specific venue where the performance will take place. Each entertainment offering is designed to align with the client's requests and expectations, taking into account the visual and technical requirements of the location. Circo Bianco ensures a seamless integration of the show with the venue, creating a harmonious and immersive experience for the audience. Feel free to contact us for any inquiries or to book your show. We are here to provide you with all the necessary information and assist you in creating an extraordinary event. Please note that these revisions are suggestions, and you can customise them further based on your specific preferences and branding.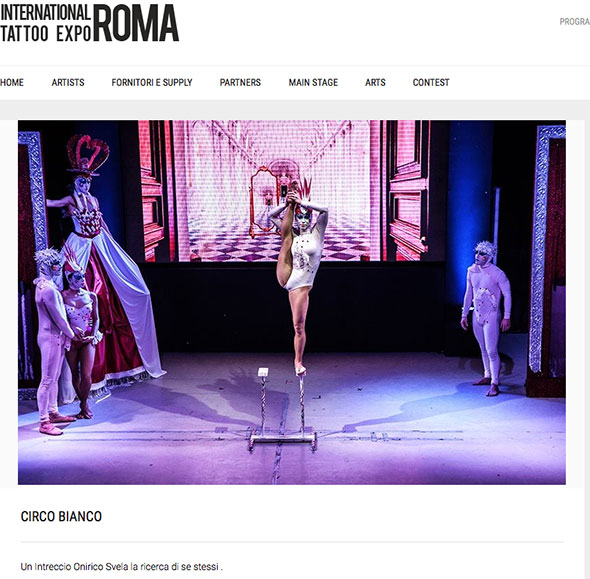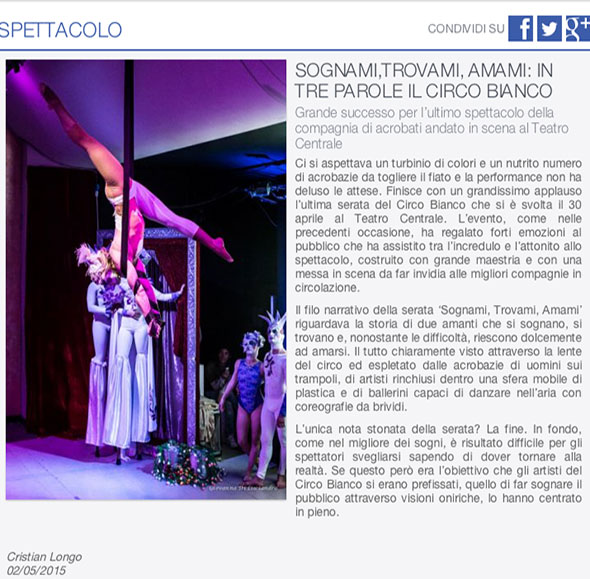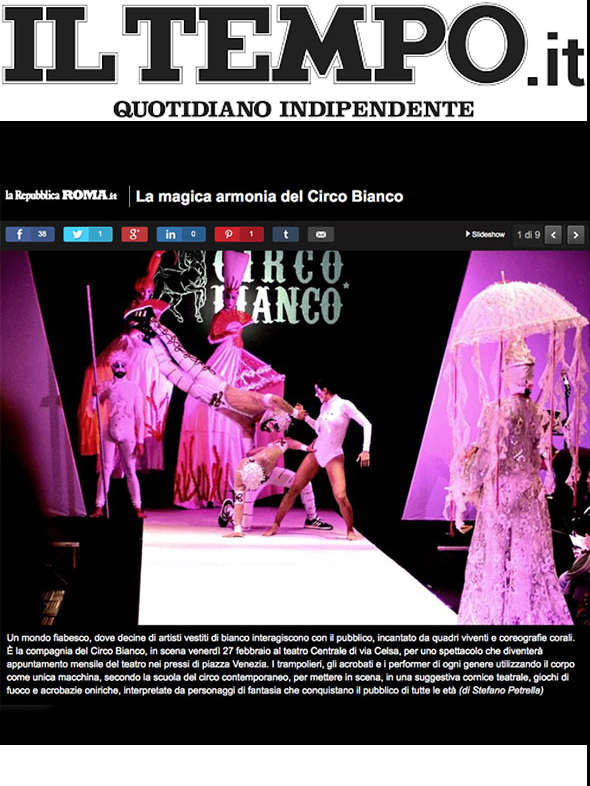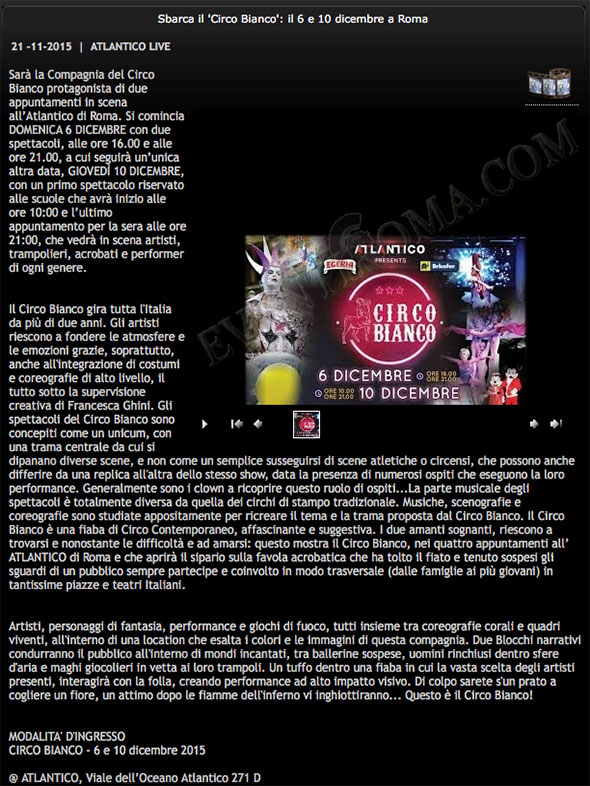 FROM 26 DECEMBER TO 6 JANUARY, 2023
ZOOSFARI of Fasano
APRIL 10, 2022
Auditorium Conciliazione for the first "Fantastic Beasts - The Secrets of Dumbledore" Warner Bros Italy
DECEMBER 45, 2021
DIGITAL CIRCUS IN WONDERLAND Cinecittà World
MARCH 9, 2021
Rai 1, special Loredana Bertè, with the participation of Circo Bianco
AUGUST, 2020
Art Direction Circo Bianco Magicland Rome amusement park
AUGUST 11, 2019
Castello d'Oro Belvedere Marittimo
JULY 26, 2019
Castle of Santa Severa Circo Bianco in "Dream Me Find Me Amami
12-13-14 APRIL, 2019
Lecce Tattoo Festival
MARCH 5, 2019
I usual Unknown Rai 1 Acrobatic moon
MARCH 2, 2019
Carnival Solfagnano Castle
DECEMBER 31, 2018
Miri Horror Bubble Show
DECEMBER 8-9, 2018
Circo Bianco Atlantico live Rome "Alla Luna"
OCTOBER 31, 2018
Miragic Halloween
AUGUST 2, 2018
Tolfarte show "Alla Luna"
January 5, 2018
Circo Bianco Atlantico live Rome "Alla Luna" 1800 presences
DECEMBER 2, 2017
Circo Bianco Atlantico live Rome "Alla Luna" 2000 presences
OCTOBER 31, 2017
Raimbow magicland Horror Night
JULY 8, 2017
Circo Bianco in "Water" - Egeria L'Acqua di Roma, protects the Waters - 800 admissions
MARCH 18-19, 2017
Don Mario Torregrossa Theater, Rome - 900 admissions
DECEMBER 16, 2016
Teatro Orione - The Wizard of Oz for INPS - 1100 admissions
AUGUST 8, 2016
Municipality of Vasto Marina - Piazza Circo Bianco - 4000 admissions
JUNE 25, 2016
Municipality of Loreto for Unitalsi - Piazza Circo Bianco - 3000 people
JULY 14, 2016
Teatro Parchi della Colombo (Rome) Circo Bianco in "Dream Me Find Me Amami"
JULY 9, 2016
Municipality of Ala (TR) Circo Bianco in "Dream Me Find Me Amami"
January 3, 2016
Orione Theater for INPS AND INPDAP (Rome) Circo Bianco in "Dream Me Find Me Love Me"
DECEMBER 6 and 10, 2015
Atlantico Live (Rome) Circo Bianco in "Dream Me Find Me Amami"
DECEMBER 9, 2015
Circo Bianco for RomEur Academy (Rome)
AUGUST 28, 2015
Glamor Night (Galatone - Lecce)
AUGUST 18, 2015
White Night of Amantea
JULY 19, 2015
Municipality of Roviano (Rome)
MAY 31, 2015
Municipality of Percile (Rome)
MAY 10, 2015
International Tattoo Expo, Palazzo dei Congressi (Rome)
APRIL 27, 2015
Red Carpet International Short Film Festival, Villa Borghese (Rome)
FEBRUARY 27, 2015
Central Theater (Rome)
MARCH 7-8, 2015
Collestrada Shopping Center (Perugia)
MARCH 21, 2015
Central Theater (Rome)
1 FEBRUARY, 2015
Galà di Moda Fashion in Action, Aran Barcelò Mantegna (Rome)
Alta Moda Roma collateral event
OCTOBER 18, 2014
Fashion Night by the Antica Cascina, Fashion Gala in Villa (Tor San Lorenzo)
Presenting: Anna Falchi and Claudio Lippi. Guest: Miss Italia 2014
AUGUST 29, 2014
"Papal Palace (Viterbo)
AUGUST 26, 2014
Grand Gala of Fashion and Entertainment, La Notte Wears Senise
DECEMBER 31, 2014
New Year's Eve in Piazza Kennedy (Cosenza)