Dinner shows and Fashion Galas, Convention and Corporate Dinners
Dinner shows and Fashion Galas, Convention and Corporate Dinners

At Circo Bianco, we harness the expertise of professional directors, choreographers, costume designers, and stage designers to produce and bring to life customized shows. We specialize in a diverse range of circus performances that can complement any exhibition or event. We take pride in offering unique and unforgettable attractions that will leave a lasting impression on your audience.

Some of our notable offerings include:
Among the special attractions for a unique and unforgettable event, Circo Bianco offers:

- Themed Event Creation: We can create a themed event inspired by popular themes such as "Alice in Wonderland,""Angels and Fairies," and more.
- Dinner Show with Themed Interventions: Enjoy a captivating dinner show with specially designed interventions that align with your chosen theme, creating a magical atmosphere throughout the event.
- Custom Dance Choreographies: Our talented choreographers can create mesmerizing dance performances tailored to your desired audio track, ensuring a seamless fusion of music and movement.
- Elegant Waders Dancers: Witness the grace and beauty of our waders dancers, adorned with luminous butterfly wings, adding a touch of elegance and enchantment to the ambiance.
- Stage Magician and Micro Entertainment: Delight your guests with the mesmerizing tricks and illusions of our stage magician, providing micro entertainment at the tables for an interactive and immersive experience.
- Swivel Acrobatic Moon: Experience a breathtaking acrobatic performance on a swiveling apparatus that resembles a mesmerizing moon, captivating the audience with its artistry and skill.
- Living Statues: Our talented performers transform into living statues, posing in stunning and artistic tableaus, creating an atmosphere of wonder and curiosity.
- Fire Shows: Witness the exhilarating fire shows, where our skilled performers manipulate fire with grace and precision, mesmerizing audiences with their daring stunts and visual spectacle.
- Ballerina in the Ball: Enjoy the ethereal beauty of a ballerina gracefully performing on water or land, mesmerizing viewers with her exquisite movements and elegance.
- Magical Aerial Show: Choose from a variety of aerial apparatuses, such as the silks, hoop, trapeze, or triangle fabric, and let our performers create a magical show in the air, defying gravity with their breathtaking acrobatics.
- Horse for Photo Shoots or Shows: Add a touch of elegance and grandeur to your event with the presence of majestic horses, available for photo shoots or special performances.
- Baby Parking Service: We provide a baby parking service, ensuring the little ones are well taken care of during the event, allowing parents to relax and enjoy the occasion.
- Mime with Soap Bubbles: Our talented mime artists skillfully incorporate soap bubbles into their performances, creating a whimsical and interactive experience that will captivate both young and old.
- Jugglers, Clowns, and Acrobats: Be entertained by our skilled jugglers, playful clowns, and awe-inspiring acrobats, who will dazzle your audience with their talent and skill.

At Circo Bianco, we strive to create an unforgettable event experience by bringing together a wide range of captivating attractions and performances that cater to your specific needs and desires.
Luminous Acrobatic Installations
Fantastic bright and self-supporting acrobatic tools. The possibility of air show performances to be held everywhere !!! The beginning would be choreographed with bright LED wings.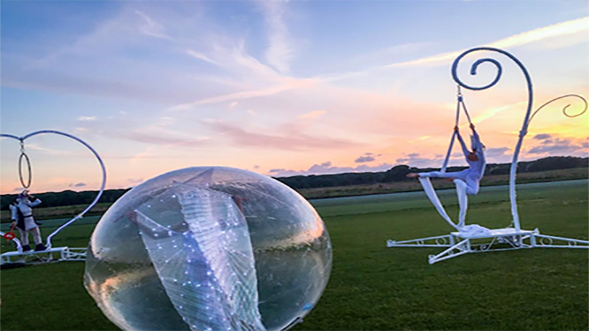 Acrobatic Moon
Original show of aerial acrobatics, on a luminous structure in the shape of a Moon, performed by a woman. Duration approximately 10 minutes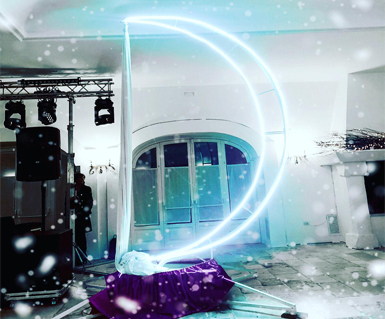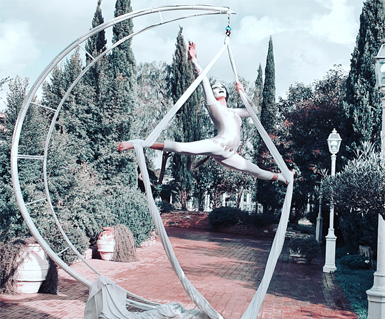 Cuore Acrobatico Luminoso
Fiore Acrobatico Luminoso
Ali di farfalla
Fantastic choreographed dances with bright wings both on the ground and on stilts Variable duration
Palo aereo
Espressione di forza e potenza su palo sospeso (Possibilità di eseguire altri interventi , fuoco e giocoleria o fuoco e trampoli , cinghie aeree)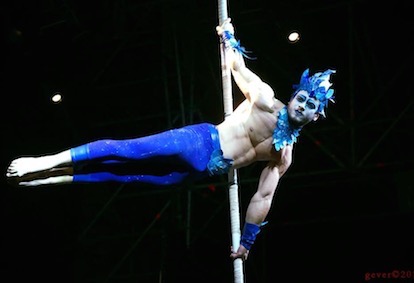 Cinghie aeree
Espressione di forza e potenza in aria ( Possibilità di eseguire altri interventi , fuoco e giocoleria o fuoco e trampoli, palo aereo o pole dance a terra )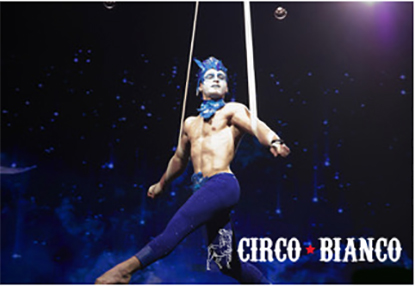 Acrobati e ballerini
Spettacoli di danza e acrobatica coreografati e a tema, di varia durata e entità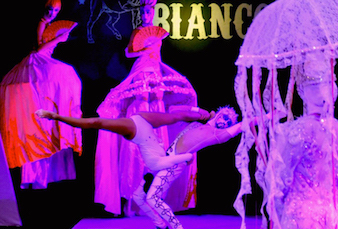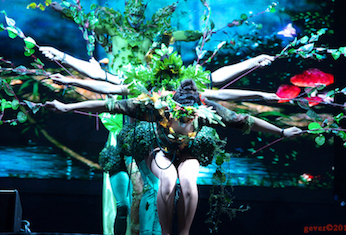 Clown - Uomo pallone
Intrattenimento, giocoleria, monociclo, bolle, spettacolo di clown con uomo pallone,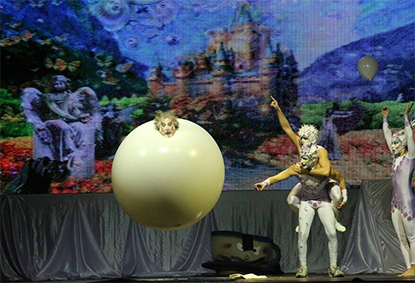 Bolle di sapone
Intrattenimento bolle di sapone all'accoglienza e spettacolo finale da palco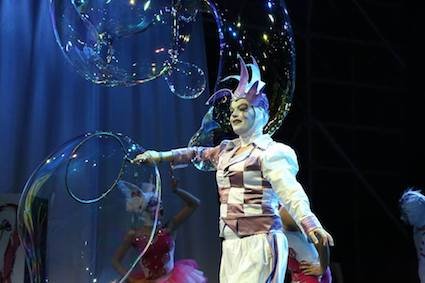 Tessuto aereo
Show di acrobatica aerea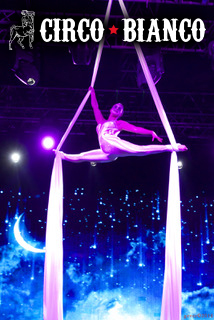 Hula hoop luminosi
La Regina della Luce,danza coreografica con hula hoop luminosi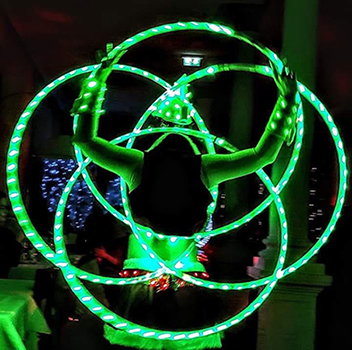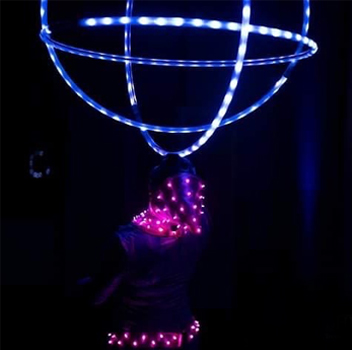 Sfera
Sull'acqua o a terra
Fire show
Dai classici sputafuoco e mangiafuoco fino ad arrivare a spettacoli di giocoleria infuocata con torce, bastoni, ventagli, bolas, catene e hula hoop.Durata variabile
Giocoliere
Elegante e classica attrazione di giocoleria Circense. Durata 10 minuti circa